I just stumbled across this fun looking purse contest on
a Lemon Squeezy Home.
Since I am a lover of purses and bags (mostly because I can't sew much else!) I think this would be a good one for me to have a go at to test out my creative bag making skills.... if I have any!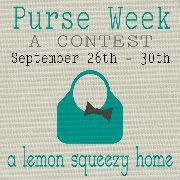 The entries from last year were just gorgeous! From the top 10, I liked these two the best:

 How cute are the pigs and apples? I had a look at the Lifestyles with Love website and there are so many cute little purses with gorgeous Kawaii fabrics and Zakka prints. Sweet!
Beautiful fabric and style. I love a clutch. So chic!
I might have a go at making a clutch too. Maybe with some pleats and a zippered section. We'll see!